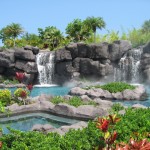 We're on a different planet for the next ten days. It felt that way after the trip here. I mean, four and a half hours to Phoenix and then six hours to Kona? Would it take that much longer to get into outer space? LOL, it's not so bad, I mean just look at these pictures. Greenery, flowers, waterfalls,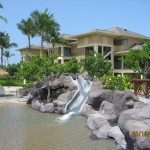 lots of waterfalls, pools, long, lovely pools, that meander from one side of the common area to the other and slides, there are three. If you are going somewhere to just be, then this is as good a place as any.
But. There's something about being in paradise. I grew up in Paradise, yes, there was a capital P. The San Fernando Valley, 1950-1969. And my urban geography professor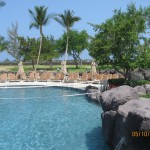 at Cal State Northridge said that we were living at the end of PERFECT! Right then, my senior year in college, it was quite a blow. The end of perfect. That's was it, and there was me, a twenty-something, who feels immortal and, well, twenty-something,'cause that's the way it works.
But every time we go to Paradise, any paradise, Disney World, Hilton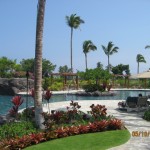 Head and now Hawaii, well. I really don't want to do perfect or paradise. I'd rather earn it, and I think we earned these ten days. I wouldn't want to live here permanently. Because then you begin to see the flaws behind the magic of paradise.  S'matter of fact, I get nervous around perfect. I look for the flaws, the blemishes, the hiccups.  Maybe it was because I saw it and now it isn't. Yep. That's it.