…I don't ever remember not being able to read. And I've always read whatever happened to be in front of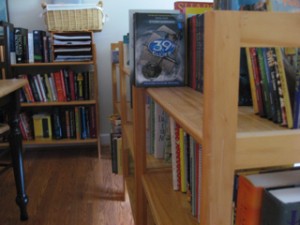 me, be it comics, cereal boxes, prescriptions, ads, label instructions or books. And, yes. I can read upside down, which can be awkward, a good skill, but still awkward.
Sometime around the third grade my mom introduced me to adventure, science fiction and murder mysteries. From Sir Walter Scott's HEART OF THE MIDLOTHIAN  to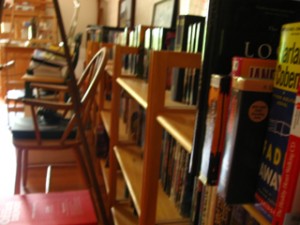 Fredric Brown's MARTIANS GO HOME! to Edgar Rice Burrough's JOHN CARTER ON MARS and Jack London's THE CALL OF THE WILD,  I spent my childhood traveling to far off places and visiting other planets while also meeting such authors as Isaac Asimov,  Dorothy Sayers, Agatha Christi, Eric Ambler and Graham Greene to name a few.
Here are a few of the books you will find on my shelf today:
A Series of Unfortunate Events by Lemoney Snicket, The Unlikely Exploit books by Philip Ardagh, The Egypt Game by Zilpha Keatley Snyder, Harry Potter by J. K. Rowling, Surviving the Applewhites by Stephanie Tolan, Tale of Desperaux by Kate Di Camillo, The Giver by Lois Lowery, Maniac Magee by Jerry Spinelli, Anything by Roald Dahl, His Dark Materials by Philip Pullman, The Grave Maurice by Martha Grimes, Southern Fried by Cathy Pickens, Jilted by Death by Lynette Hall Hampton, The Gormenghast Novels by Mervyn Peake, The Lord of the Rings by J. R. R. Tolkein, The Disc World Series by Terry Pratchett, The Once and Future King by T. H. White