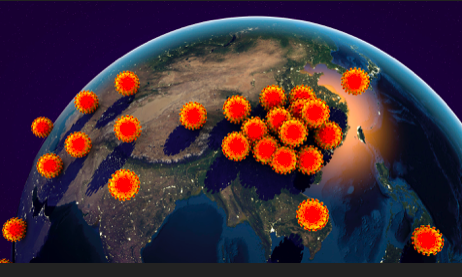 Terrifying unless you are surrounded by your own family, in your own house, eating all your favorite foods. We are fortunate, and so are our children and their children. And we are lucky to be able to 'see' our children and grands.
In a recent FaceTime conversation with E, a happy and securely loved five year old, told me about social distancing. I thought that was funny.

Then I wondered if I should be sad. After all, these are the sort of experiences that impact and affect our growing up lives.
We hear regularly about the last couple of generations, sigh, I can't keep track, Gen Z? Millennials? and how dramatic their lives have been…. 9/11, the Great Recession, the Wars in Iraq and Afghanistan and now the Pandemic shutting down the economy and impacting jobs. And it's 'okay, boomer'. Like our lives were perfect and wonderful. LOL.
I clearly remember the kindergarten room at Villa Cabrini Academy. A large room off the upper quad, windows on two sides, black chalk boards on the other walls surrounded by bulletin boards, backed by color, overflowing with pictures that were thought, I suppose, to be beneficial to the eye of a kid. There were low square tables with two chairs to each side, brown, I distinctly remember brown and hard. I can't remember if there were lots of us or a few. I do remember a short sleeved baby blue uniform, pleats across the front from shoulder to hem, a matching belt with a silver buckle, and white collars and cuffs. We wore white anklet socks and Buster Brown shoes. Mine were always a mess. It was 1951. I was four. I had thrown a temper tantrum, of apparently epic enough proportions, demanding to be part of the class. So there I was. The M.S.C. nuns were nothing if not accommodating. Besides, with my curly red locks and cubby cheeks, I was considered adorable, although I am sure Mother Amedia's ah, brigantine! did not mean angelic! A tall thin nun, with an almost impenetrable Italian accent, perhaps she saw me the best of any of them.
I remember one of the things we learned was 'duck and cover'. This was California during the cold war. Burbank, where Cabrini was located, was a major part of Eisenhower's defined military-industrial complex, the major players, Lockheed, Raytheon, Grumman, to name a few, close by. The assumption was that we would be a target. I now think, HA!, like folding up like a turtle, knees tucked under, head down, hands around your head, would protect you from an atomic bomb!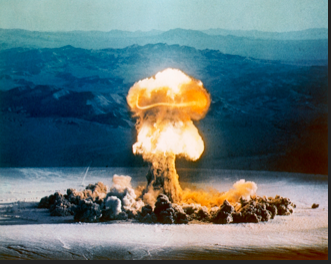 My high school and college years were filled with assassinations, JFK in 1963 <my high school senior year> and MLK and RFK <at the Ambassador on Wilshire Blvd> assassinated in 1968, civil rights protests, Vietnam war protests, the Watts Riots of 1965, the violent political protests of '68 Democrat Convention in Chicago, the bombings by the Weather Underground from 1960 into the 1970's , and the Kent State shooting in 1970. In my college, CalState Northridge, Black Power was active and more than once attempted to block students from class. The administration building was set on fire, LAPD Swat Teams, in full swat regalia, visited campus more than once surrounding the Free Speech quad.
I am sure that my parents could list the impact on their generation. Born in 1911 and 1913, before the 1918 pandemic, I never heard them speak of the horror of it, but it must have been. From Scranton PA, my dad lived in town on Pittston Avenue, my mom in Blakley on the main street. We all have historic happenings that somehow shaped us, colored our thinking, enhancing our fears. My hope is that this experience will be one that makes E stronger, not now, but in the future. That it will not be the fear of the virus that holds her imagination, but the fact that she was loved, protected and cherished. And that it is her responsibility to continue to love, protect and cherish her family and friends. Sappy, I know. But it is my wish that the fear not be the overriding memory. That laughing about social distancing, playing with CH and Zooming with other pre-K classmates be the memory that keeps her in the future.
Got a comment? That's fine. Be nice. No flaming.