…back to tennis. Life is good when you can get outside in 32 degree weather and play some tennis. Although, sometimes I feel a bit like Charlie Brown in the snow, because I'm bundled trying to keep my neck and shoulder warm so I don't hurt. Otherwise it's all good. I've been ignoring everything, well, almost everything, for the month of October.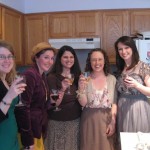 Had to go to Baltimore for the shower. Meghan did a super job of making her living room into a Victorian Tea Room. Ah. Ya gotta love talent.
Up next is making the shawl for the wedding. Yes. Mom can be multi-talented :-).
Now we're into November. The only month where we are going to be home, well, I'll be home for the whole thirty days. Yeah! Lots of writing up my sleeve since I've figured out the story. And, more SCBWI stuff to do. New website design. Plan the 2012 conference.  Get editors and art director for the contest. Yikes! gotta go.