I like that word. Done. When you say it it is a puff of air, it is hard, singular and finite.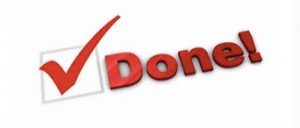 I am done with a synopsis [well, almost, awaiting a critique on that one] a query letter [one more critique and it will be] and the novel itself. Weighing in at 54768 words. A lot! True not a 90,000 word great american novel.
I have lost count on the number of revisions to this story. It began as a short story with adults in the main character roles. And I liked it, sent it to Ellery Queen for a contest and got nothing back. Which was okay. I didn't really expect anything. It was really my first attempt at working a story after thirty years of writing abstracts of articles, job descriptions, policy papers, work procedures, how-to's for managers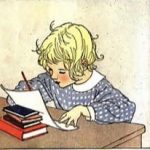 and supervisors, newsletter and employee handbooks. It was a challenge to add in more words, to describe a room, or to see a scene through the eyes of a character and it started me on this path, this one that I am on now.
It took me a while to understand that writing for adults, while hard~ please do not get me wrong~ was just not the same thing as writing for a kid. And then it took me longer to understand writing for children today. The stories I read as a kid, mostly were either historical fiction where the event was the pivot point, or mysteries where the murder/theft/crime was the pivot point. I mean, consider the girl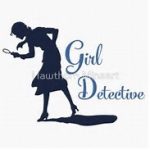 detective of the post war period. She was clever, confident. You knew somewhere along the story she was going to be in jeopardy, but you also knew she was going to get out of it.
There were the Bobbsey Twins, Nancy Drew, Trixie Belden, Cherry Ames, and the one lone boy, Encyclopedia Brown. No, I take that back, there were the Hardy Boys. They were always more about the mystery than the kid!  And I loved that. It's not that I didn't care about Nancy and her cousins Bess and George, it's that their lives really did not intrude on the story. They were somewhat independent even though Nancy was when I was reading them, rather young for the responsibilities and opportunities she had to go off on her own. I think too, I always liked that George was a girl!  I was less interested in their lives and more interested in how in a small town like River Heights there could be so many crimes. [I find I have the same problem today with series that are outside major cities, that involve so many murders.]
I digress. Done! The story, the action, the mystery and how it unfolds has been less of an issue for me than the internal story. When I was first asked to describe the emotional journey of the character I immediately thought of my best Sarah Berhardt imitation~ flat of the hand across the brow, a slight sinking of the knees and a huge sigh. It took me a long time to grasp the need for children to connect with a character before they connect with the story. At least that is one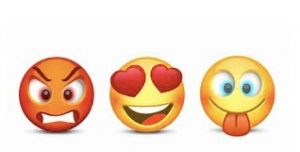 of the ways I see it.
We are ruled in our social media by emotions. Do I like? Why is there no don't like on Facebook? We use pictures~ jpegs., gifs, memes~ to describe what we are dubious about putting into words in places that almost require, nay, demand, the quick short cut. So while we are describing our emotion, it is nothing unique! nothing original. When I use a smily face with stars  in it's eyes, do I mean it the same way that some one else does? Okay not a lot to worry about, because most of us do not spend that much thought on others thoughts.
But in a book, short cuts do not work for emotions, or better stated, they shouldn't work for emotions. For a child to read the story and get what the writer means, it should be clear, upfront and a goal sought after through the whole book.
Upteenth revision later, I think I am as close as I can get by myself. When the synopsis critique comes through. When the second query critique comes through, I think I am ready to submit. Not that I did not submit before, I did. I tried and no, nothing. But this time, I think I have a best hook. I think the writing is the clearest and cleanest and most soundly representative of the main character I can come up with. Ha! We shall see.
In truth, tho, Done only means one thing.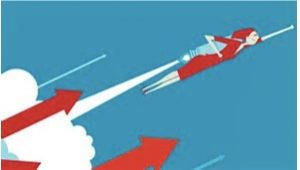 there is another story to work on!