What I love about the international SCBWI conferences:
I can attend. Just attend. I can go to all the keynotes, panels, breakouts, socials and extras I want. I AM NOT IN CHARGE! And that is awesome.
I look for craft based presentations and wowzer! just sit and listen to keynotes.
THEN
I can also line up 'acts' from the big show to play in the sticks, i.e., in the Carolinas region 🙂  This is an opportunity to meet, greet, have a conversation, float an idea about an intensive or conference participation and try to get a commitment.
It's a tricky thing, being in LA or in NYC, for that matter. There are thousands, well not really, but sometimes the red-lanyard club does seem highly ubiquitous. We talk a lot on our list, exchange ideas, complain, share problems, seek solutions and just generally give support. But, well, there is nothing like face to face to give the added boost to community building. And, we aren't all even there. We have eighty (?) regions, international and domestic, in SCBWI and a regional team for each one.
These international conferences give time to interact with the home office staff and get to know them. This year, a lot of that interaction time went to the back end of the new website, specifically the registration program which many of us have been turning gray over. Alright, so I was already there, but you get the idea!
This year was a WowZer of a year, actually the years build and they are all WowZer years.  Meg Rosoff, who writes YA like a picture book, making every single solitary word count. Judy Schachner, an author/ illustrator, although those are such limited word choices for her. Stephen Chbosky who gave us a view of classic, Justin Chanda confirming Picture Books are not dead, and the life cycle of children book genres is circular, Aaron Becker, yes, illustrators do some of the best keynotes and even sing, and I could go on and on. And we aren't even into the breakouts yet.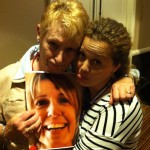 I had a special project this year. My sidekick was not able to travel to LA for all the right reasons, which means she was working on finishing up a books with Atheneum. #inlawithoutbonnie was the hashtag on my Facebook account. Bonnie actually went to a lot of places from the registration desk, to telling jokes with Chelsea, to conversations with agents, the illustrator social, the non-fiction social and the international social. Here's Bonnie with Diandra Mae and me at the illustrator social. 
The opportunity to go is beyond wonderful. The red-lanyard advantage to approach industry professional [writers, illustrators, editors, agents] for the region is exciting. And, the ability to live my writing life at this conference is a gift.