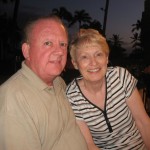 The big island. No joke. I think we've put 700 miles on the car in the time we've been here. But back to holy ground. First the luau. So this is for you, Gretchen Griffith––pictures.  The Big Island Luau, Legends of the Pacific. It was a commercial thing, you know, they've got the various pricing, Alli'i, mean royalty, more cost, better service, closer seats. All good, especially when you can take advantage of a senior
price. That's the picture of the roasted pig. We sat at a table with two honeymoon couples, a woman given a Hawaiian vacation by her husband, and a couple–he who just returned from two tours in Afghanistan. It was nice, even more so when one of the honeymooners, the he, was taken up to the stage near the end of the performance to dance. LOL, actually he was pretty good.
The next day we set off for Hilo, the rainforest zoo and the National Volcano Park. Getting there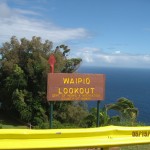 meant going to the other side of the island, and the reason we've put on over 700 miles. We stopped for gas in Waimea, $4.56 per gallon. Sheeze, and we complain about the $3.30. It's insane. The gal at the gas station tells us to stop in Waipo Valley. More black sand beaches. Long story short, as they say and we're on this back road to the town of Honokoa. For those of us who spent a great deal of time in the Northeast, the roads are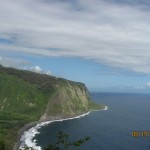 remarkable, flat, long, black, and seemingly, for an island, endless. And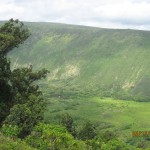 then you end up at a small sign. Then, looking past the sign, you see clear blue ski, white fluffy clouds and this massive expanse of land drop off into the ocean. It is breathtaking. The valley below is serene, and the signs tell you this is a holy place and you can well believe it because you feel it. And then you see the black sand beach.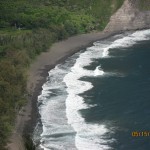 This is larger, more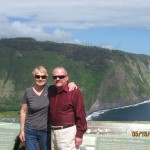 accessible but still, down. A long hike down.
The remarkable thing to remember, is that King Kamehameha II, his father the one who united the islands, abolished the old religion. And while the old religion probably was cruel, superstitious, and demeaning, it also belonged to a people, made them what they were, held them together, and they respected the land. Going to places like Waipo Valley  reminds you that there is good reason to save holy places.